Freezer Cooking Tips & Tricks
Fall-Ready Freezer
A few weeks ago I started our fall freezer stocking a little early after we eagerly picked 12 pounds of blueberries at the U-Pick farm in Snohomish. Once I admitted that I was going to have to freeze a ton (or ~10 pounds as it was) I realized our freezer needed some serious attention.
I cleaned out what was in there then I hit the cookbooks for our favorites and the blogs for some new things to try. I made my list and went shopping.
Our old standards that made the list were:
Taco meat
Spaghetti meat sauce
BBQ pulled pork
Spicy turkey burgers
White calzones
Red calzones
Banana bread
Chocolate chip cookie dough
The new items on the list were:Then the 'no work / no cook' items were:
Shredded rotisserie chicken
Marinara (for the calzones)
Pesto
The 1st things tackled when I got home from shopping were the 'no work / no cook' items on the list.
The shredded rotisserie chicken was hands down the best find in my freezer idea search. It's so brilliantly simple it's hard to believe I never thought of it myself, but this stroke of genius came from
Clean Mama
. We use this stuff for chicken pot pie, chicken & dumplings, soups, quesadillas, salads, etc. etc. I simply shredded it and put it in freezer bags – SO EASY!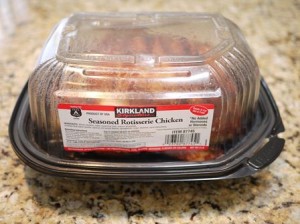 I froze the marinara and pesto in mini muffin tins (which don't absorb flavors like plastic), turned them out onto wax paper to harden the rest of the way, then tossed them into flat bottom freezer bags. Mini muffin tins hold a little over 1 tablespoon so they're great for things like this.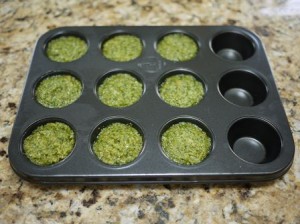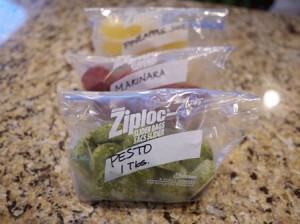 For any of the protein dishes that were cooked (as well as the cookie dough), they were all put into quart freezer bags and flattened before freezing them on a sheet pan. This way they can stand up and are easy to flip through to quickly find what I need.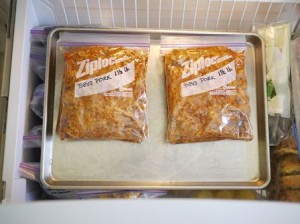 The egg muffins were cooked in regular muffin tins then frozen on the sheet pan before being lined up in the flat bottom freezer bags.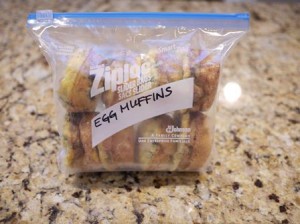 These are a new favorite grab & go breakfast item in our house.
The calzones were individually wrapped in plastic before going in the freezer bags and the banana bread was cut in half and each half wrapped in plastic before both pieces went in the bag.
When all was said and done, this was the end result. A well stocked and organized freezer.
Top drawer:
Bottom drawer
:
Total tally of work done:
3 ravioli dinners
3 taco meat
3 spaghetti meat sauce
4 shredded chicken
4 BBQ pulled pork
8 spicy turkey burgers
4 red calzones
6 white calzones
18 egg muffins
9 T marinara
18 T pesto
1 batch chocolate chip cookie dough
1 loaf (split) banana bread
Thank you to Kristi for a great, in-depth tutorial on how to freeze meals at home! What are your favorite tips for making freezer meals at home?
If you have a delicious freezer meal recipe & would like to share with Thrifty NW Mom readers, you can email me at thriftynwmom(at) hotmail (dot) com. Even better if you have a picture of your dish to include.
Kristi is a stay-at-home-Mom to a crazy, wild, typical 3 year old boy. She's always used her freezer but got serious about freezing meals and meal starters when she got married and realized most recipes make way too much food for 2 adults. And now that they have a little boy running around non-stop it's that much more important to have food pretty much ready to go morning, noon, and night for us as well as for impromptu entertaining.

Freezer Cooking Tips & Tricks